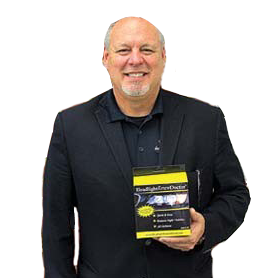 A Gear Head First
I've always been a car man…a gear head who misses his 1970 Chevelle like I miss the smell of motor oil if I am absent from my shop for too long. Cars are my passion, my hobby and my profession. I painted my first car when I was 19 and I opened my own body shop when I was 22 years old. People used to joke that I wasn't born at a hospital but delivered to a dealership.
In 2007 I first noticed that headlights were yellowing. I was working on a 2004 Corolla and it had been involved in a front end collision. Only one of the headlights was damaged, but when I replaced that light it was immediately obvious that the other light had yellowed substantially. At that point in time, I wasn't sure what the cause of the yellowing was but I wanted to investigate further. Once I was aware of the issue and started to look at cars on the road it quickly became clear that a large number of 3 to 4 year old cars suffered from this problem. I sensed an opportunity.
The Development Process
Over the next 12 months I developed my first headlight restoration system. I experimented with gels, clear coats, and even lacquers. The problem I found was that all of these treatment methods immediately "refinished" the surface of the light but within weeks, the headlight was even more yellow than before. I then began to investigate the causes behind the yellowing in an effort to develop a "cure." I soon discovered that the headlight discoloration fell into two categories; yellowing and cloudiness. The types of discoloration issue were specific and consistent with the makes of the cars involved; Chrysler's went cloudy and Nissan's went yellow. Each make went one way or the other. While the "symptoms" showed themselves differently (one yellow and the other cloudy) there was one root cause; UV ray exposure. I began to experiment on how to counteract this problem.
From my investigations I learned that UV ray exposure was at the heart of the deterioration problem. The plastic lens covers were similar but their reaction to UV light was different. I asked myself, "If there is one cause, can there be one remedy…" I then began to tinker with the chemical formula until I developed a product that was equally effective on both types of lens covers and offered a prolonged protection against a recurrence of the issue.
Headlight Restoration Service
In the spring of '08, I began to offer this service to several local used car dealerships. The used car world is small and word of a headlight restoration service began to spread. Soon I expanded to offer restoration as a mobile service in Chattanooga and surrounding areas. I began to call on new car dealerships to offer this service. Jaguar of Chattanooga was the first to pick-up on this service to offer it to their customers. At this point headlight restoration became a full-time operation.
The First Headlight Restoration Kits
One day while calling upon a new car dealership, the service manager asked if I had a kit that would do multiple headlights that he could purchase to implement in his service bays. The light bulb went off in my head. I spent the next week putting together a kit that would do forty sets of headlights and then spent the next six weeks cold-calling with the new kit. At first no one bought it, not even the man who gave me the idea.
The Opportunity
However, an appointment with Marshall-Mize Ford Service Manager, Mitchell Kearnea set the stage for the acceptance of the kit. I gave Mitchell my two minute sales spiel and without missing a beat Mitchell blew me off. I went back to the car dejected and ready to give up. I noticed a car beside mine that had cloudy headlights. I asked the owner if I could "renew" her headlights for free. She said "Yes, I don't drive at night because I can't see, do you think this would help?" I renewed one headlight, and then drove the car into the service area where Mitchell's office was located. I walked into his office and politely asked him to watch the 2nd headlight of the car being renewed. His face was blood-red as he came out. I then renewed the 2nd headlight in 4 minutes!
He asked, "Is that all there is to it?"
I said, "Yes."
30 seconds passed in silence. Mitchell finally asked, "Can you come back Thursday at 10am and demo for my technicians?"
"Yes, I can and thank you for your time!" That Thursday I demoed on three cars in forty minutes with a dozen technicians, the shop manager, and three sales advisers watching the process. Ten minutes later, Mitchell wrote me a check for the first kit and Headlight Renew Doctor was born.
Since that first sale, this family of products has been sold to over 1000 retailers in 42 states, and 11 countries. The product can save the replacement cost of a new headlight for a fraction of the cost. Whether sold as a service or bought as a DIY product, there is no better headlight restoration system—it's easy, it's fast, it works and it lasts.